Birthday Parties (most guests will be 1,2 or 3) Orlando Kids Party!
Click Here: Most guests 1,2 or 3
What's in The Show?
I come as my family-entertainer character
"Mr. Nifty" in colorful clothes. My "silly person" character is prefered for this age group.
A visit of about a half an hour is the right length for smaller children.
Steve gets down on their level and makes friends right away!
Younger children enjoy simpler entertainment-
They don't want to sit and watch a "show", they want to play and get involved.
I bring out the "Magic Drawing Board: and several children draw pictures on it, and the final picture (a big birthday cake) COMES TO LIFE and starts to TALK AND SING and magically finds your child out of the crowd!
I make a SPECIAL GIFT for your child, and we finish with some simple games where EVERYONE wins a prize!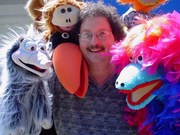 PHONES:
(407) 844-0219
(407) 957-1615